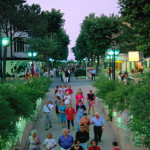 Bellaria was born as a fishing village and later became a holiday destination for families of the Lombardy region, which here have built their own houses by the sea.
Today Bellaria is a popular seaside town on the Adriatic coast which hosts tourists from all over Europe.
The well-equipped Bagno Delio is just 150 meters from the Hotel and this excellent beach resort offers to the Faro's guests a fantastic offer: 1 umbrella and 2 Sun beds for only 8,00 Euro per day!

Cesenatico is a seaside town full of traditions and attractions. The harbour was realised on Leonardo da Vinci's project and it is the cornerstone of the city. It is a very picturesque sight with historic boats and the docking of fishing boats still in business.

Atlantica is located in Cesenatico and it is one of the most popular and largest amusement parks of the Adriatic coast. It covers an area of over 100,000 sq. m, 42,000 sq. m of green area and 5,700 sq. m of swimming pools with water at around 28°C.
Mirabilandia is the largest theme park of the Italian peninsula, it is located in the village of Savio, between Ravenna and Cervia. The park's attractions are enjoyable by both adults and children, among which we recommend to try: the Katun, the Discovery and the ISpeed.
Zoo Safari Ravenna is located in the village of Mirabilandia and for a moment you will think to be somewhere else and not on the Adriatic coast…
This zoo is a wildlife park that allows you to see more than 450 animals of 40 different species roaming free, without barriers and you will be almost in contact with the animals themselves. A must-try experience for you and your children.

Italia in Miniatura is located in Viserba. This park is called 'Italy in miniature' and as the name tells you, here you have the opportunity to travel around a 'smaller' Italy. It is a park ideal for both adults and children, that shows you our beautiful country from a different point of view!

…..additionally you can also visit the Cattolica aquarium, the castle of Gradara, the dolphins of Rimini, the Ferrari Museum in San Marino, the Frasassi Caves, the fortress of San Leo, the mosaics in Ravenna, the saline of Cervia, the Aquafan and Oltremare in Riccione, Ski Park in Perticara, the Domus del chirurgo and museums in Rimini, the poet's house in San Mauro Pascoli… and much more!